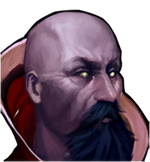 Zoltun Kulle was one of the original members of the Horadrim and likely a master enchanter of the Ennead Clan before that. He was tasked by Tyrael to keep the soulstones while the Horadrim hunted down the three Prime Evils during the Dark Exile.[1]
The Dark Exile
When Baal shattered the amber soulstone prior to being captured, it was Zoltun Kulle who first theorized that a human heart could complete the prison, thus leading Tal Rasha to volunteer to contain the Lord of Destruction. Some sources also say that it was through Zoltun Kulle's own mistake that the soulstone was shattered in the first place during the battle.[2]
Following the capture of Diablo and the end of the Horadrim's hunt, Zoltun Kulle returned to Kehjistan where he continued to study magic in great secret. Eventually the rest of the Horadrim learned that he was attempting to create a Black Soulstone with which he would be able to harness the powers of both angels and demons.[3] Upon hearing this, the other Horadrim deemed it necessary to kill Zoltun Kulle, but he was so strong that they could not complete the deed. Instead they cut him in half. They removed his head and buried it underground surrounded by magical runes. His body was sent into another dimension.[4]
Diablo III
Zoltun Kulle's head is retrieved by the Heroes, who are after the Black Soulstone. He agreed to help with obtaining his creation, but only if he was resurrected. Once the Heroes obtained his body from the other dimension located inside The Terminus, Leah reunited the head and body to bring Zoltun Kulle back to life. After first reveling in being alive again, he led the Heroes to his Archives and revealed the Black Soulstone. Having never intended to hand over the item, he attacked the Heroes but ended up being defeated and destroyed utterly.
The way he is destroyed varies depending on the type of damage meant to be used. He either explodes after emitting a loud scream or melts away into the floor quietly.
Gallery
References