Wizard
"Originally under the guidance of the Zann Esu mage clan, she was eventually handed over to the Vizjerei in the hopes that their strict and unbending discipline would break her anarchic spirit. Yet even the esteemed Vizjerei instructors were unable to rein her in. She was continually being caught seeking out dangerous and forbidden magics, heedless of the consequences to herself or anyone around her." - Abd al-Hazir
The Wizard is a rebellious caster whose skills have amazed and surpassed even the most elite mages. Originally hailing from Xiansai, the Wizard has made her way from school to school learning more and more. The Wizard mastered the elemental skills of most wizards with Hydra and Meteor spells at her disposal. Not content with these simple elemental spells, the Wizard ventured her learning into matters of the Arcane. Able to bend time and reality, the Wizard has proven her skills as a caster. Lastly, the Wizard has used her skills to conjure up swords and even a familiar to help her in her fight against the demons that now inhabit Sanctuary.
Active Skills
(Based on a level 60 character)
Active Skills
Magic Missile
Requires Level 1
 
Cooldown: 0 seconds
Launch a missile of magic energy, causing 110% weapon damage as Arcane.

Ray of Frost
Requires Level 2
Costs 20  
Cooldown: 0 seconds
Project a beam of frozen ice that blasts 215% weapon damage as Cold to the first enemy it hits, slowing the target's movement by 30% for 3 seconds.
Shock Pulse
Requires Level 3
 
Cooldown: 0 seconds
Release a medium range pulse of 3 unpredictable charges of electricity that deal 105% weapon damage as Lightning.
Frost Nova
Requires Level 4
 
Cooldown: 12 seconds seconds
Blast nearby enemies with an explosion of ice and freeze them for 3 seconds.
Arcane Orb
Requires Level 5
Costs 35  
Cooldown: 0 seconds
Hurl an orb of pure energy that explodes when it hits, dealing 175% weapon damage as Arcane to all enemies within 10 yards.
Diamond Skin
Requires Level 8
 
Cooldown: 15 seconds
Transform your skin to diamond for 6 seconds, absorbing up to 10853 damage from incoming attacks.
Wave of Force
Requires Level 9
Costs 25  
Cooldown: 15 seconds seconds
Discharge a wave of pure energy that repels projectiles and knocks back nearby enemies. This also slows the movement of enemies by 60% and deals 200% weapon damage as Physical.
Spectral Blade
Requires Level 11
 
Cooldown: 0 seconds
Summon a spectral blade that strikes all enemies in your path for 135% weapon damage.
Arcane Torrent
Requires Level 12
Costs 20  
Cooldown: 0 seconds
Hurl a barrage of arcane projectiles that deal 175% weapon damage as Arcane to all enemies near the impact location.
Energy Twister
Requires Level 13
Costs 35  
Cooldown: 0 seconds
Unleash a twister of pure energy that deals 360% weapon damage as Arcane over 6 seconds to everything in its path.
Ice Armor
Requires Level 14
Costs 25  
Cooldown: 0 seconds
Surround yourself in a barrier of ice. Melee attackers are either Chilled or Frozen for 2 seconds. Lasts 120 seconds.

This is an Armor spell. Only one Armor spell can be active at a time.
Electrocute
Requires Level 15
 
Cooldown: 0 seconds
Lightning arcs from your fingertips, dealing 80% weapon damage as Lightning. The lightning can jump, hitting up to 2 additional enemies.
Slow Time
Requires Level 16
 
Cooldown: 20 seconds seconds
Invoke a bubble of warped time and space for 8 seconds, reducing enemy attack speed by 20% and movement speed by 30%. This bubble also slows the movement of enemy projectiles by 90%.
Storm Armor
Requires Level 17
Costs 25  
Cooldown: 0 seconds
Bathe yourself in electrical energy, shocking ranged and melee attackers for 70% weapon damage as Lightning. Lasts 120 seconds.

This is an Armor spell. Only one Armor spell can be active at a time.
Explosive Blast
Requires Level 19
Costs 20  
Cooldown: 6 seconds seconds
Gather an infusion of energy around you that explodes after 1.5 seconds, causing 225% weapon damage as Physical to all enemies within 12 yards.
Magic Weapon
Requires Level 20
Costs 25  
Cooldown: 0 seconds
Imbue your weapon with magical energy, granting it 10% increased damage. Lasts 5 minutes.
Disintegrate
Requires Level 21
Costs 20  
Cooldown: 0 seconds
Thrust a beam of pure energy forward, dealing 155% weapon damage as Arcane and disintegrating enemies it kills.
Hydra
Requires Level 21
Costs 15  
Cooldown: 0 seconds
Summon a multi-headed Hydra for 15 seconds that attacks enemies with bolts of fire dealing 28% weapon damage as Fire. You may only have one Hydra active at a time.
Familiar
Requires Level 22
Costs 20  
Cooldown: 0 seconds
Summon a companion that will attack your targets for 20% weapon damage as Arcane. This companion cannot be targeted or damaged by enemies and lasts for 5 minutes.
Teleport
Requires Level 22
Costs 15  
Cooldown: 16 seconds
Teleport through the ether to the selected location up to 35 yards away.
Meteor
Requires Level 25
Costs 60  
Cooldown: 0 seconds
Summon an immense Meteor that plummets from the sky, causing 200% weapon damage as Fire to all enemies it crashes into. The ground it hits is scorched with molten fire that deals 60% weapon damage as Fire over 3 seconds.
Mirror Image
Requires Level 25
 
Cooldown: 15 seconds seconds
Summon 2 illusionary duplicates of yourself that last for 7 seconds and have 25% of your Life. The images may cast some of the same spells as you, but those spells deal no damage.
Blizzard
Requires Level 27
Costs 45  
Cooldown: 0 seconds
Call down shards of ice to pelt an area, dealing 210% weapon damage as Cold to all enemies in the area over 6 seconds. Multiple casts in the same area do not stack.
Energy Armor
Requires Level 28
Costs 25  
Cooldown: 0 seconds
Focus your energies, increasing your Armor by 65% but decreasing your maximum Arcane Power by 20. Lasts 120 seconds.

This is an Armor spell. Only one Armor spell can be active at a time.
Archon
Requires Level 30
Costs 25  
Cooldown: 120 seconds
Transform into a being of pure Arcane energy for 15 seconds. While in Archon form, your normal abilities are replaced by powerful Archon abilities, and your Armor and resistances are increased by 40%. Every enemy killed while in Archon form adds 1 second to the duration of Archon.
Passive Skills
Passive Skills
Blur
Requires Level 10
 
Decreases melee damage taken by 20%.
Power Hungry
Requires Level 10
 
Gain 30 Arcane Power whenever you are healed by a health globe.
Evocation
Requires Level 13
 
Reduces all cooldowns by 15%.
Glass Cannon
Requires Level 16
 
Increases all damage done by 15%, but decreases Armor and resistances by 10%.
Prodigy
Requires Level 20
 
When you deal damage with a Signature spell, you gain 4 Arcane Power.

The following skills are Signature spells:
Astral Presence
Requires Level 24
 
Increases your maximum Arcane Power by 20 and Arcane Power regeneration by 2 per second.
Illusionist
Requires Level 27
 
Whenever you suffer more than 15% of your Life in a single hit, the cooldowns on Mirror Image and Teleport are automatically reset.
Cold Blooded
Requires Level 30
 
Cold damage dealt to chilled and frozen targets is increased by 20%.
Conflagration
Requires Level 34
 
Fire damage dealt to enemies applies a burning effect, increasing all damage done to them by 10% for 3 seconds.
Paralysis
Requires Level 37
 
Lightning damage dealt to enemies has up to a 8% chance to Stun the target for 2 seconds.
Galvanizing Ward
Requires Level 40
 
Increases the duration of your Armor spells by 120 seconds. As long as an Armor spell is active, you gain 310 Life per second.

The following skills are improved:
Temporal Flux
Requires Level 45
 
Whenever you deal Arcane damage, enemies are slowed by 30% for 2 seconds.
Critical Mass
Requires Level 50
 
Critical Hits have a chance to reduce the cooldown of your spells by 1 second.
Arcane Dynamo
Requires Level 55
 
When you deal damage with a Signature spell you may gain a Flash of Insight. After 5 Flashes of Insight, your next non-Signature spell deals 75% additional damage.

The following skills are Signature spells:

Unstable Anomaly
Requires Level 60
 
When reduced below 20% Life, release a shockwave that knocks all enemies back. This effect cannot occur more than once every 60 seconds.
Resource System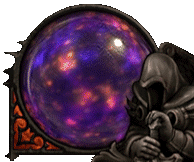 Arcane Power: Arcane Power is the resource used by the Wizard. It behaves by starting full, and can be expended to cast spells and abilities while passively regenerating back. There are many traits that can affect Arcane Power either by increasing its maximum amount, regen rate, the amount regenerated by Health Globes or by landing critical hits.
Lore
The Wizard is a rebellious youth, never content with the strict schooling of most mages. She has been sent from school to school, with hopes that someone will be able to help her control her prodigal skills. Unable to, the Wizard was caught learning magics that she should not have been. Challenged, the Wizard attacked one of the leaders of the Vizjerei Mages. Surviving the battle, the Wizard left the school to practice her newly acquired magical skills against those who oppose her.
"Owing to my lack of tolerance for those who would use magic towards their own nefarious ends, many have assumed that I am averse to the practice of the magical arts on a philosophical level. Nothing could be farther from the truth. My quarrel is with those sorcerers who dismiss the ancient traditions and teachings – teachings that have been honed over millennia in order to preserve respect for authority and the rule of law.



Recently the youth of Caldeum have fallen prey to the overblown stories of just such a delinquent wizard. That is correct: I used the uncouth term Wizard, not Sorcerer. It seems that even the title of a civilized magic wielder is too restrictive for this young upstart. Through my contacts at the Yshari Sanctum of the mage clans, I am one of the few who actually know the truth behind the rumors now sweeping our streets regarding this hellion who flaunts her magic irresponsibly.



This wizard was sent here to spend her formative years under the tutelage of the best mages in the world. Well, it seems they neglected to teach our wizard manners on her native island of Xiansai, for she was a rude and uncooperative student from the very beginning. Originally under the guidance of the Zann Esu mage clan, she was eventually handed over to the Vizjerei in the hopes that their strict and unbending discipline would break her anarchic spirit. Yet even the esteemed Vizjerei instructors were unable to rein her in. She was continually being caught seeking out dangerous and forbidden magics, heedless of the consequences to herself or anyone around her.



Although there is no truth to the tales that she actually ventured into the infamous Bitter Depths below the Sanctum, she was caught in the Ancient Repositories, where the most dangerous incantations are housed for the safety of the public. When confronted by the great Vizjerei mage Valthek and demanded to account for herself, she brazenly attacked him rather than face the punishment merited by her acts. Exaggerated stories of the battle are already being inflated to mythic proportions by the more rebellious of our city's youth, but suffice it to say that she did not actually best Yshari's most powerful mage in single, honorable combat. The details of the encounter remain unclear, as Valthek has yet to regain consciousness, but it has been verified by reliable sources that she relied on trickery and deceit to bring the great man low. I have also been assured that the extensive property damage was chiefly the result of Valthek's magical prowess, not the upstart wizard's. As to where she is now, no one rightly knows, for she fled the city immediately after the encounter.



It is not my goal to alarm, but I find this situation disturbing. We now have a rebellious wizard, young and inexperienced, wandering the world, dabbling in powerful magics she does not understand. Those wiser than you or I determined long ago that certain schools of magic were too dangerous and forbade their practice. It is those magics that this wizard seems determined to explore – magics centered on manipulating the primal forces from which reality is constructed. Imagine, a headstrong nineteen-year-old youth, able to warp time itself to her will! The thought is truly terrifying. It is my honest hope that this self-styled wizard chooses never to return to Caldeum" - Abd al-Hazir
Trivia
The female Wizard is voiced by Grey DeLisle, while the voice of the male Wizard is given by Troy Baker.
Development
The Wizard was the third class to be revealed. Shown at the 2008 Blizzcon, the Wizard helped fill in the magical caster archetype. Barring many similarities to the Sorceress of Diablo II including having many of the same spells, the Wizard has moved beyond the classic elemental spells. Adding a new type of damage to the Diablo franchise, the Wizard was given power over the Arcane. Most notably, Slow Time is a skill that shows how much more tactical this class will be. Being one of the first classes developed, along with the Barbarian, the Wizard was showcased with many of her skills unlike most of the classes. In fact, very little has been changed from the original concept of the Wizard.
Perhaps the biggest change in this character was the changing of her resource from mana to Arcane Power. This change with through many iterations. The first change was planned to be a more unstable energy source. Casting spells would raise her vulnerability up both increasing spell damage but leaving her exposed to increased damage. This changed after balancing this idea became too difficult. The Wizard now uses Arcane Power which is a fast regenerating set pool of energy.
Media
Class Trailer
Concept Art
Screenshots
Act 1 Exterior
Act 1 Interior
Act 2 Interior
Links