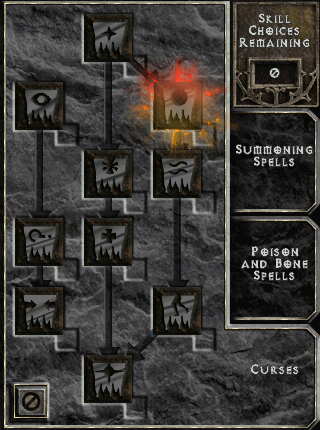 Weaken
Decreases the damage the target can do
Class:
Necromancer
Skill Tree:
Curses
Required Level:
6
Damage Type:
-
Cast Delay:
-
Active
Prerequisites:

Amplify Damage

(1)
Skill progression
Level
1
2
3
4
5
6
7
8
9
10
Mana Cost
4
4
4
4
4
4
4
4
4
4
Radius (yards)
6
6.6
7.3
8
8.6
9.3
10
10.6
11.3
12
Duration (seconds)
14
16.4
18.8
21.2
23.6
26
28.4
30.8
33.2
35.6
Target Damage -%
33
33
33
33
33
33
33
33
33
33
 
Level
11
12
13
14
15
16
17
18
19
20
Mana Cost
4
4
4
4
4
4
4
4
4
4
Radius (yards)
12.6
13.3
14
14.6
15.3
16
16.6
17.3
18
18.6
Duration (seconds)
38
40.4
42.8
45.2
47.6
50
52.4
54.8
57.2
59.6
Target Damage -%
33
33
33
33
33
33
33
33
33
33
Description
Weaken descreases the damage enemy monsters inflict on the player. This skill is generally viewed as weak, offering little compared to Decrepify further down the skill tree.
Lore
This bane allows the Necromancer to sap the strength from his enemy. Enemies are enfeebled to the point that their blows become highly ineffective. Decreases the damage the target can do.[1]
References
↑ Diablo II Manual, page 71. Blizzard Entertainment, 2000.