Jurassic World: Dominion Dominates Fandom Wikis - The Loop
Play Sound
"

Some devious little goblins have been robbing our merchants! When pursued, they simply open portals and disappear with a most aggravating chuckle. The peasantry seem to believe that the goblins serve a great demon lord known as Greed and furthermore, that their portals lead to Greed's domain! A ludicrous notion, truly.

— Abd al-Hazir
Treasure Goblins are small impish little creatures that carry a bag of loot on their backs. They flee immediately upon sight of any player or on damage, leaving a trail of gold coins behind in an attempt to distract the player from killing them. Eventually they try and escape through a portal, but if players can manage to kill it before it gets away it will drop considerable loot. Loot quality is further increased by Nephalem Valor stacks with extra guaranteed Rare or better items dropping with a full stack.
Goblins are a universal spawn, spawning in most monster infested areas of the game. The variant that spawns is random and unrelated to the area. Some large areas such as Vault of the Assassin can spawn multiple but generally only 1 will spawn in a given area. There seems to be a correlation between variant and the loot dropped. The loot that drops when fleeing is mostly gold but can be other items.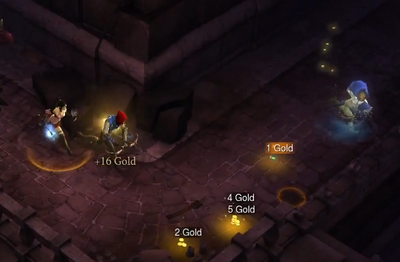 Abilities
Crowd Control Resistant

Immune to most forms of debilitating crowd control.

Flinching

Will flinch very easily to most attacks.

Flee

After flinching the monster will drop extra loot and run away rapidly dropping loot along the way. When triggered all applied debuffs are lost. Can only be used a few times before having to use Last Resort.

Anti-Ambush

For the first two times Flee is triggered the damage able to be received is capped at a fraction of the maximum life. This protects against powerful skills that would otherwise instantly kill.

Last Resort

An improved version of Flee that is triggered after a couple of Flee attempts. Extra speed, crowd control immunity and flinch immunity are applied making the goblin unstoppable. Also lasts longer than Flee. After use the Goblin can only use Escape as the flinch immunity will prevent further interruption.

Escape

Channels a portal to the

Lord of Greed

's domain. After channeled for considerable time will disappear into the portal forever, not dropping any loot. Used once alerted to the presence of the party when standing idle. Can be interrupted by flinching.

Goblin Treasure

On death drops vast quantities of loot. Type of loot depends on variant. Nephalem Valor enhance the quantity and quality of loot rolls beyond attribute value.
Variants
Normal
Treasure Bandit
Treasure Goblin

Drops Rare items.

Treasure Pygmy