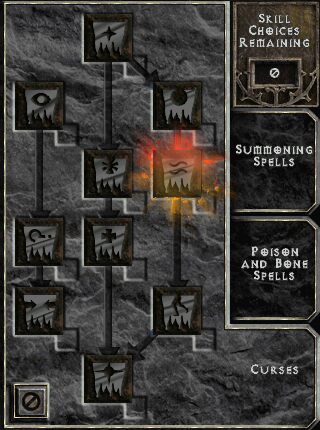 Terror
Cursed monsters run in fear
Skill progression
Level
1
2
3
4
5
6
7
8
9
10
Mana Cost
7
7
7
7
7
7
7
7
7
7
Duration (seconds)
8
9
10
11
12
13
14
15
16
17
Radius (yards)
2.6
2.6
2.6
2.6
2.6
2.6
2.6
2.6
2.6
2.6
 
Level
11
12
13
14
15
16
17
18
19
20
Mana Cost
7
7
7
7
7
7
7
7
7
7
Duration (seconds)
18
19
20
21
22
23
24
25
26
27
Radius (yards)
2.6
2.6
2.6
2.6
2.6
2.6
2.6
2.6
2.6
2.6
Description
Terror causes the Necromancer's enemies to run away. Like other crowd control skills, it doesn't work on other players or Act bosses like Andariel.
Lore
This curse causes its victim to hallucinate, conjuring their greatest fear in corporeal form before their eyes. They believe these apparitions are real and run from them as long as the curse affects them. Cursed monsters run in fear.[1]
References
↑ Diablo II Manual, page 71. Blizzard Entertainment, 2000.