OUTDATED: The information on this page was removed during development and is no longer present in Diablo III.
History and Development
The current Skill Rune system was implemented with Beta Patch 13 and was a complete overhaul of the previous rune system, which used rune stones as items that dropped in the world. The runes still perform the same function in that they change the mechanics of the skills, but where players previously had to find or buy runes, they are now simply unlocked through leveling. The skill rune system also does not have ranks, instead each is around the equivalent to what the rank 4 or 5 rune was previously.[1]
The old Rune Stones were runes that could be inserted into active skills in Diablo III. Each skill had five different runes unlocked at different character levels, and each rune changed the effect of the skill it modified. Each skill could only have one rune inserted into it at any one time, forcing the player to choose which rune best fit the character build. Runes can be changed at any time, provided the player meets the level requirements, but the skill will be unusable for 30 seconds after switching.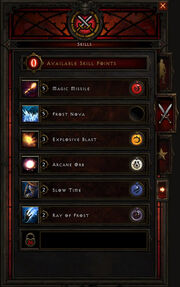 Runestones were originally items in Diablo III that were used to augment player skills in unique ways. Functioning much differently than Diablo II's Runes, runestones were placed into specific skills, changing their functionality, improving their damage, or altering their appearance in some way.
The first versions of the runestones were introduced at the very beginning in 2008. One of the game's leading new components, developers were excited to show off just how versatile these skill runes would be. However, because of Blizzard's constant reworking of material, skills runes were removed from the game until 2010, as Blizzard felt that it was too much effort re-working every runestone as they re-worked every skill. So instead, they decided to remove them completely until they felt that their skills for each class were closer to being completed.
The original names of Viper, Hydra, Striking, Multistrike, and Power were changed to reflect a more Diablo-sounding name system and to open up the abilities of each type of Runestone. The new names (Obsidian, Alabaster, Indigo, Crimson, and Golden) provided Blizzard with greater variety in what changes they could bring to a skill, instead of having to conform to something that would suit the rune name.
After a brief period were the stones were to drop in an "un-attuned" state and then attune to a skill when equipped, it was decided that the Rune stone system would cause an inventory nightmare and was scrapped for the Skill Rune system now in place where the variations on skills are unlocked as the character level to 60. This had the added benefit of allowing each level gained through the entire game to grant some advantage other than the attribute allocation.
General Information
The Runestones were named Alabaster, Crimson, Golden, Indigo and Obsidian. Each type of Runestone would come in one of seven quality levels, including Stone (levels 1-2), found in Normal difficulty; Silver (levels 3-4), found in Nightmare; Gold (levels 5-6), found in Hell, and level 7 runes found only in Inferno. Different runes would provide different bonuses for all skills. For instance, Magic Missile socketed with an Alabaster Rune would become a homing missile, while an Indigo Magic Missile would split it into five projectiles. Higher qualities of Runestones would increase the benefit that the Runestone type has on a skill, making tier 7 runes desirable for all characters.
Equipping
The runes were to be equipped by inserting the rune into the skill's socket. Players would be able to remove and swap out runes without having them destroyed.
Originally players could swap runestones at any point during play, but then the Nephalem Altar (now also defunct) was introduced as the sole location where people could switch skills.
Passive skills could not be socketed under the old system either.
Rarity
Skill runes were part of the random loot that monsters dropped. Runes started to drop in Act II in normal difficulty and would then continue to drop throughout all the difficulties. It is unknown just how rare the skill runes would have been but Blizzard mentioned that they intended for low level runes to be fairly common so players could experiment with them, while tier 7 runes were intended to be very rare and long-term goals for players to strive towards.
Media
Old Runestones
Normal
Nightmare
Hell
Inferno
Alabaster
Rank 1
Rank 2
Rank 3
Rank 4
Rank 5
Rank 6
Rank 7
Crimson
Rank 1
Rank 2
Rank 3
Rank 4
Rank 5
Rank 6
Rank 7
Golden
Rank 1
Rank 2
Rank 3
Rank 4
Rank 5
Rank 6
Rank 7
Indigo
Rank 1
Rank 2
Rank 3
Rank 4
Rank 5
Rank 6
Rank 7
Obsidian
Rank 1
Rank 2
Rank 3
Rank 4
Rank 5
Rank 6
Rank 7
Unattuned
Rank 1
Rank 2
Rank 3
Rank 4
Rank 5
Rank 6
Rank 7
Gallery
Video
References