Jurassic World: Dominion Dominates Fandom Wikis - The Loop
Play Sound
Were you looking for the Paladin skill? See Sanctuary (Diablo II).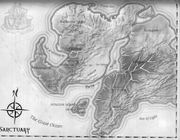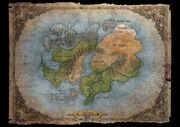 Sanctuary is the primary setting for the Diablo games.
Lore
For eons, the High Heavens and the Burning Hells have waged an endless war against each other to dominate the whole of creation in what is known as the Great Conflict. Yet, neither side has ever been victorious, as each side always finds one way or another to change the tides of the war to their favor.
Inarius, who was once one of the Archangels in the Angiris Council, was tired of the endless battle so he decided to create a world where he and other similar-minded Angels and Demons could live together peacefully. This world became known as Sanctuary, and along with it the Worldstone was created in order to hide Sanctuary from both the High Heavens and the Burning Hells. The various Angels and Demons within Sanctuary partnered together and bred the first generation of humans known as the nephalem. Inarius partnered with Lilith, and Rathma was their child. The nephalem turned out to be powerful beings, even stronger than both Angel and Demon.
Lilith had a plan of her own for this Sanctuary however; she wanted to use its population as her own personal army. She murdered all the other Angels and Demons in Sanctuary except for her loved one, Inarius. He didn't approve of her plan at all for he wanted the Nephalem to worship him and fuel his ego. Inarius then altered the Worldstone so it not only cloaked this Sanctuary from the High Heavens and Burning Hells, but to also dampen the powers of its Nephalem population slowly over each generation. Inarius wanted control over his creation, and that no one else should surpass him.
The Prime Evils soon learned of this Sanctuary and planted within it the Triune in an attempt to convert mortals to their side. Inarius followed suit and created his own religion, the Cathedral of Light. The two opposite religions slowly grew in size and strength sending missionaries to the whole of Sanctuary.
Following the eventual capture of Inarius with the help of Uldyssian and the edyrem, the High Heavens also became aware of the existence of Sanctuary. The Angiris Council decided upon Sanctuary's fate, which ultimately voted for its survival. Mephisto then approached the Angiris Council and a pact was made; the Burning Hells would leave Sanctuary alone and he (Mephisto) would get to have Inarius as a prisoner. It was agreed that they wanted to leave Sanctuary alone to see how it would turn out. However, it was also decided that everyone's memory on Sanctuary had to be wiped so that mortals as a whole could properly start anew, unaware of the forces that had created them and, ultimately, might bring them to their Destruction.