ManaShield Sorc by ShadowBaam
ManaShield Sorc
Game
Diablo 2 : LoD
Class
Sorceress
Primary Attack
Lightning/Chain Lightning
PvM/PvP
PvM
Can Solo Hell?
Hell Yeah !!!
Creator
ShadowBaam
{{{Header7}}}
{{{Cell7}}}
{{{Header8}}}
{{{Cell8}}}
{{{Header9}}}
{{{Cell9}}}
{{{Header10}}}
{{{Cell10}}}
{{{Header11}}}
{{{Cell11}}}
{{{Header12}}}
{{{Cell12}}}
In Short, the ManaShield Sorc is a Sorceress who boost her mana and use Energy Shield as defensive skills. As Lightning and Chain Lightning are some prerequisites to Energy Shield, it's a good idea to stay in the Lightning Spells for the Primary Attacks.
Stats/Attribute
The first thing we all want to know is "Which stats should I improve ?". Well, if you have the D2 guide, do not trust it !!! The stats points should be different for every type of character so this guide is bulls**t ;) This is my stats repartition :
| Stat | Final Amount |
| --- | --- |
| Strength | 76 |
| Dexterity | 25 |
| Vitality | 69 |
| Energy | 415 |
Stats Explanation
Strength : My goal was to use a Monarch which require 156 Strength and with my Gears and Charms, I only needed 76 Strength, so it will depend on yours. Monarch are essential for a Sorceress so try to put the least amount of Strength to hit 156 with your Gears/Charms.

Dexterity : Some people would put enough DEX to reach the Max Block and think that's a good idea. However, you're not a melee class so it's useless to reach Max Block for 2 reasons :
First, if you waste points here, you'll need to remove a lot of points in energy, so your Energy Shield will be less and less useful.
The Second reason is that you're goal isn't to be hit, so why would you need to block ?

Vitality : The only reason I've put some point here was to stay alive when I'm against some Mana Drain monsters. If you're able to play without spending any points in VIT, Put them in Energy instead :)

Energy : Do I really need to explain ? To be sure, I'll give you a little explanation... You're a Sorceress who's using Energy Shield.
Skills Placement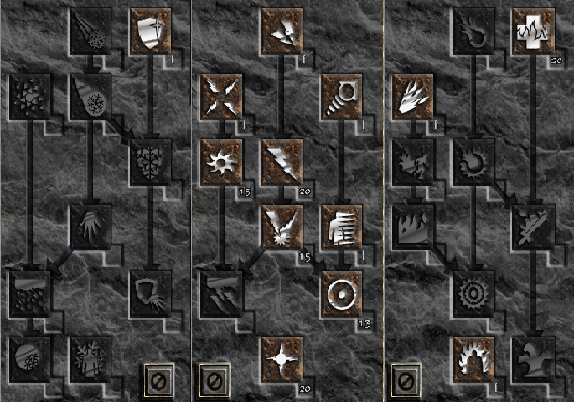 Skills Explanation
Cold Spells :
Frozen Armor : Can be a good second Defensive Skill, and it gains a lot of levels from my Gears/Charms


Lightning Spells :
Charged Bolt : Good Synergie with Lightning and Chain Lightning
Static Field : Prerequisite
Telekinesis : Good Synergie with Energy Shield
Nova : Good Attack when circled and Synergie with Lightning and Chain Lightning
Lightning Primary Attack
Chain Lightning Secondary Attack
Teleport : Useful and Prerequisite
Energy Shield : Cause it's a ManaShield Sorc
Lightning Mastery : Boost Lightning Spells


Fire Spells :
Warmth : A big part od the damage taken goes to my mana so I need a good Mana Regeneration
Inferno : Useful against Fire Immune, get a lot of levels from Gears/Charms and gain damage from Warmth Synergie
Fire Mastery : Boost Inferno


Gear
Amulet
Mara's Kaleidoscope
Amulet
Level Requirement: 67

+2 to All Skills
All Resistances +20-30 (varies)
+5 to All Attributes

(Only Spawns in Patch 1.09 or Later)

Circlet
Griffon's Eye
Diadem

Defense:

150-260


Minimum Strength: -
Durability: 20
Level Requirement: 76

+100-200 Defense (varies)
+1 to All Skills
25% Faster Cast Rate
-(15-20)% to Enemy Lightning Resistance (varies)
+(10-15)% to Lightning Skill Damage (varies)

(Ladder Only)
(Only Spawns In Patch 1.10 or Later)

Orb
The Oculus
Exceptional: Swirling Crystal
1H Damage: 18 to 42
Range: 1
Attack Speed: [10]
Minimum Strength: -
Minimum Dexterity: -
Durability: 50
Level Requirement: 42

+3 to Sorceress Skill Levels
+5 Mana After Each Kill
All Resistances +20
25% Chance to Cast Level 1 Teleport When Struck
30% Faster Cast Rate
+20 to Vitality
+20 to Energy
+20% Enhanced Defense
50% Better Chance of Getting Magic Items

(Only Spawns In Patch 1.09 or later)

I think it's the best Orb when it comes to stat. However, it's not the one I use cause the 25% Teleport is just very bad.
Eschuta's Temper
Elite: Eldritch Orb
1H Damage: 18 to 50
Range: 1
Attack Speed: [-10]
Minimum Strength: -
Minimum Dexterity: -
Durability: 30
Level Requirement: 72

+1-3 to Sorceress Skill Levels (varies)
40% Faster Cast Rate
+10-20% to Fire Skill Damage (varies)
+10-20% to Lightning Skill Damage (varies)
+20-30 to Energy (varies)

(Only Spawns In Patch 1.10 or later)

Boost Skills, Damage, Cast Rate, Energy and doesn't teleport you... Awesome !!!
However, you need to find a perfect one (with +3 Skills)
Chest Armor
Chains of Honor
4 Socket Body Armor
Dol •  Um •  Ber •  Ist
Level Requirement: 63

+2 To All Skills
+200% Damage To Demons
+100% Damage To Undead
8% Life Stolen Per Hit
+70% Enhanced Defense
+20 To Strength
Replenish Life +7
All Resistances +65
Damage Reduced By 8%
25% Better Chance of Getting Magic Items
Monarch Shield
Spirit
4 Socket Shields
Tal •  Thul •  Ort •  Amn
Level Requirement: 25

+2 To All Skills
+25-35% Faster Cast Rate (varies)
+55% Faster Hit Recovery
+250 Defense Vs. Missile
+22 To Vitality
+89-112 To Mana (varies)
Cold Resist +35%
Lightning Resist +35%
Poison Resist +35%
+3-8 Magic Absorb (varies)
Attacker Takes Damage of 14

Rings
Bul-Kathos' Wedding Band
Ring
Level Requirement: 58

+1 to All Skills
+0-49 to Life (+0.5 per Character Level)
3-5% Life Stolen per Hit (varies)
+50 to Maximum Stamina

(Only Spawns in Patch 1.09 or Later)

The Stone of Jordan
Ring
Level Requirement: 29

+1 to All Skills
Increase Maximum Mana 25%
Adds 1-12 Lightning Damage
+20 to Mana

Belt
Arachnid Mesh
Spiderweb Sash
Defense:

119-138


Potion Slots: 16
Minimum Strength: 50
Durability: 12
Level Requirement: 80

+90-120% Enhanced Defense (varies)
Slows Target By 10%
+1 To All Skills
+20% Faster Cast Rate
Increases Maximum Mana 5%
Level 3 Venom (11 Charges)

(Only Spawns In Patch 1.10 or later)

Gloves
Frostburn
Gauntlets

Defense:

47-49


Minimum Strength: 60
Durability: 24
Level Requirement: 29

+10-20% Enhanced Defense (varies)
+30 Defense
+5% Enhanced Damage
Increase Maximum Mana 40%
Adds 1-6 Cold Damage - 2 Second Duration

(Only Spawns In Patch 1.09 or later)

Boots
Sandstorm Trek
Scarabshell Boots
Defense:

158-178


Kick Damage: 60-110
Minimum Strength: 91
Durability: 14
Level Requirement: 64

+140-170% Enhanced Defense (varies)
20% Faster Hit Recovery
20% Faster Run/Walk
+1-99 to Maximum Stamina (+1 per Character Level)
+10-15 To Strength (varies)
+10-15 To Vitality (varies)
50% Slower Stamina Drain
Poison Resist +40-70% (varies)
Repairs 1 Durability Every 20 Seconds

(Only Spawns In Patch 1.10 or Later)