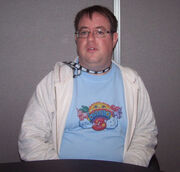 Jay Wilson is the lead designer of Diablo III. He was first brought into Blizzard to work on Starcraft II, though he has worked on many projects, including World of Warcraft. There is even a WoW character named after him.
Before coming to Blizzard, Wilson worked for a company called Relic Entertainment where he was the lead designer for a Warhammer-inspired RTS game based in the future. The game received positive reviews. Now Wilson is trying his hand at the Hack & Slash genre. Diablo 3 is a wonderful chance to plant his roots firmly in the history of Blizzard Entertainment. Jay has stated he enjoyed playing a couple of classes in D2, most notably the Barbarian and Necromancer.
His immediate family consists of him, his wife, and his young daughter who he allows to play Diablo III because he has such a firm belief and knowledge about what's in the game.
He's not all work and no play though; he has a humorous side, evidenced by his infamous Diablo III Rainbows and Ponies shirt.
Trivia
Jay Wilson also appears in Diablo III as an Elite mob in the Easter Egg level Development Hell.