Guardian Spirits
Release the soul prisons and destroy Ghezrim.

Act
Act II
Location
Stinging Winds
Trigger
Dying Necromancer
XP
1,575
Gold
240
Objectives

Destroy the spirits trapped in the soul prisons:

2

/

2

Kill Ghezrim
Guardian Spirits is an event quest in Act II. It has a chance to trigger within Stinging Winds. The event is triggered by interacting with the Dying Necromancer.
Walkthrough

Dying Necromancer
I came here searching for a powerful ghost named Ghezrim. We found him here, locked within the soul prisons.
But the cultists wounded me gravely in the desert, and I dared not try to destroy him. You must do what I could not.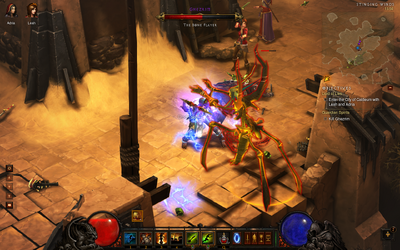 Achievements