We're Getting Mutants in the MCU - The Loop
Play Sound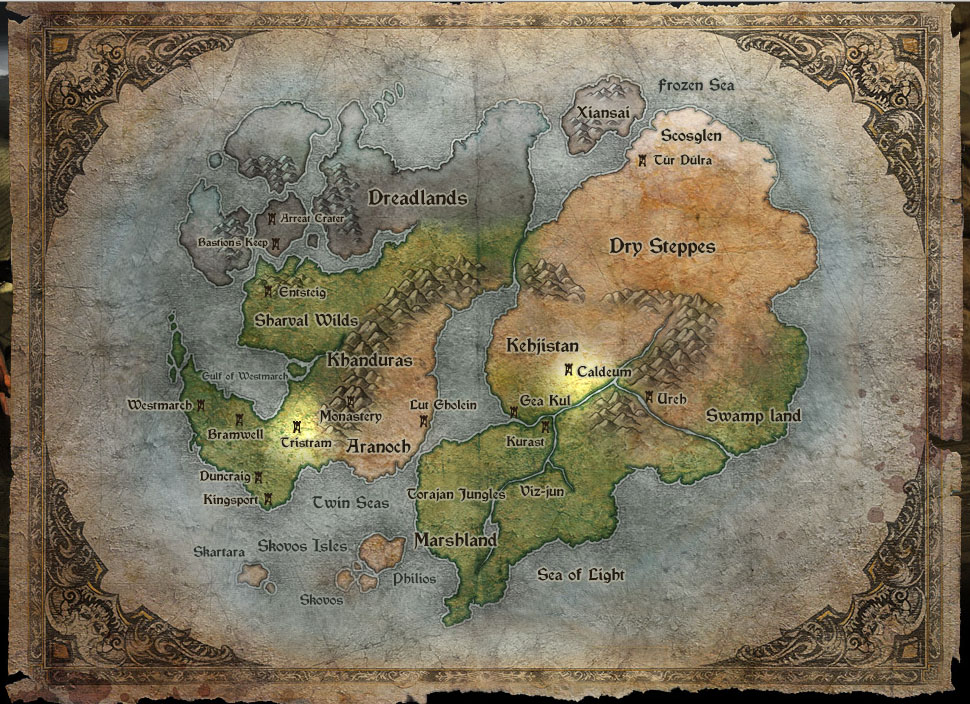 The Diablo landscape is separated into many areas and with the announcement of Diablo 3 more of those areas are being made available for players to explore!
Borderlands
After my encounter with the savage dune thresher (see Encounter with Burrowing Death, entry 004), one might think it natural were I hesitant to venture into the wastes surrounding Caldeum. Those who have set foot upon the Borderlands' burning yellow landscape and looked out upon its miles of barren sand roiling with terrible wildlife would surely agree with this sentiment.

It was not always thus. In years past, I could have ventured forth with no concern for my safety. Though the Borderlands are among the most savage habitats in our world, even these deadly lands were no match for the superior resolve of Caldeum in its prime.

The Borderlands were originally devoid of any but the most hardened (some would say crazed) prospectors until the great military city of Lut Bahadur (literally, "city of the gate") was built to keep the lacuni in their cliff dwellings safely away from Caldeum. Lut Bahadur's solitary watch over the desolate wastes came to an end four hundred years ago when precious ore was discovered in the region known as the Stinging Winds. The town of Alcarnus was quickly established as the center of all mining in the area, with several other smaller settlements springing up in its wake. When the Dahlgur oasis was discovered and a third town was erected there, Caldeum's dominance over the Borderlands was complete. The Borderlands could reliably depend on fresh supplies of food and water from Dahlgur's caravans, protected by the might of Caldeum's Dune Guard.

But Hakan II, our young and inexperienced sovereign, has seen fit to withdraw the support of Caldeum from the wastes and leave those who live there to their own devices. Now, no caravan is safe, and refugees from the Borderlands beat against the gates of Caldeum in an endless wave of displaced humanity, desperate for the salvation our city once provided. I have spoken with many of these poor folk at length, and the tales they share would give even the most stalwart adventurer pause. Though their stories of a secret cult intent on raising a demonic army are obviously embellished due to their lack of knowledge pertaining to such things, their hysteria and suffering have convinced me that something terrible indeed stalks the Borderlands.
New Tristram
We have all heard the tales associated with Tristram. The very mention of its name brings to mind images of undead monstrosities, demonic possession, monarchy driven to lunacy, and, of course, the greatest legend of all: the Lord of Terror unleashed. Although many now claim that a peculiar mold upon the bread or perhaps a fouling of the water drove the populace mad with visions, I have seen too much in my varied travels to dismiss such stories out of hand. It is within this context, then, that I have to say my journey to what is now called "New Tristram" was somewhat of a disappointment.

New Tristram has been in existence for several years, though the exact date of its founding is unclear. Originally simply a collection of merchants looking to profit on adventurers and travelers drawn by legends of riches within the old cathedral, it slowly set down roots and became an established town. As soon as the cathedral was looted bare, however, the adventurers and travelers stopped coming, and New Tristram found itself in decline. The town is now comprised mostly of depressing shacks; the inn is the only building that looks even the least bit habitable.

Before I took my leave of this dreary place, I was cornered by an eccentric old man who seemed to have an endless supply of anecdotes and folksy wisdom to impart. He went on about there still being much of value deep within the cathedral in the form of tomes of ancient origin and wisdom. I will have to take his word for it, for I must admit that while I did explore the burnt remains of the "old" Tristram, I lacked the intestinal fortitude to do much more than take a few hesitating steps within that infamous cathedral of legend.
Caldeum
Caldeum was once the proudest city in all of Kehjistan, the trade capital of the entire world. Caldeum was never seen as the heart of the empire, even though it rivaled Viz-jun, and later Kurast, in size, and those who called Caldeum their home liked it that way. Even when the Mage Clan Wars erupted, the battles were never tolerated to affect trade in Caldeum, for while politics and magic may be important, trifling with trade is a serious matter. Let Kurast see itself as the center of the world, they would say. We'll keep our free exchange of goods, currency, and ideas, thank you very much.

But the pride I once held in this great city has become tarnished and dull. In looking back on it all, now, I would have to say that this rot infecting our city started when a good number of Kurast's nobles fled their homes and took up residence in Caldeum. I have heard all the horrific and unbelievable rumors as to why they fled their great city, but the reasons did not concern us. It was their attitude that held our concern. As relief at being safe from whatever drove them here faded, their mood changed to entitlement and then, ultimately, to arrogance. They had no trouble demanding their "rightful" place on the trade consortium council governing our city, and they were prepared to use their wealth to hire the mercenaries needed to see their ambitions through.

I was initially dubious when the emperor of Kehjistan emerged to confront this quickly deteriorating situation. But the charm, leadership, and intelligence that he brought to bear as he quickly resolved the conflict between our council and the Kurast nobles were nothing less than masterful. When the people fully supported him in his role as our emperor, I saw this achievement as nothing short of a miracle. Though we had always been part of the empire of Kehjistan, and therefore under his rule, we had always behaved as if we were a free entity, beholden to no one but ourselves. It truly seemed at the time that catastrophe had been averted, but now it has become all too apparent that it was merely hidden beneath a thin veneer of civility.

This veneer began to shred when Emperor Hakan became ill. His influence started to wane, and the mood in Caldeum changed with his health. As he got worse, so did our once fair city.

When he died and his ineffectual child heir took the throne, Caldeum began to circle the abyss. Our list of ills seems never-ending: the state of our downtrodden and the slums they are forced to live in, our incompetent leadership, the reemergence of the intolerant Zakarum, and their quarrels with our mage class...I could go on for pages.

It is all too much for one to bear, really.