The Sandman Will Keep You Awake - The Loop
Play Sound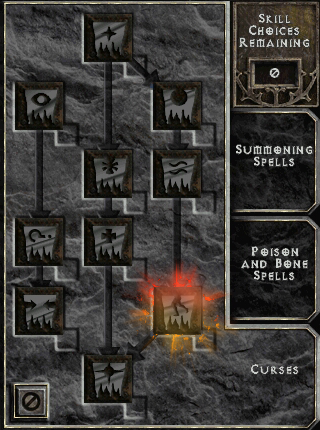 Decrepify
Target's Speed, Damage and Physical Resistance -50%
Skill progression
Level
1
2
3
4
5
6
7
8
9
10
Mana Cost
11
11
11
11
11
11
11
11
11
11
Duration (seconds)
4
4.6
5.2
5.8
6.4
7
7.6
8.2
8.8
9.4
Radius (yards)
4
4
4
4
4
4
4
4
4
4
 
Level
11
12
13
14
15
16
17
18
19
20
Mana Cost
11
11
11
11
11
11
11
11
11
11
Duration (seconds)
10
10.6
11.2
11.8
12.4
13
13.6
14.2
14.8
15.4
Radius (yards)
4
4
4
4
4
4
4
4
4
4
Description
Decrepify is a devastating curse. It combines Weaken and Amplify Damage and adds speed reduction to the target on top of that. This speed reduction stacks with slowing effects from cold damage and from the Clay Golem, giving the Necromancer the ability to slow down enemies better than any other class in the game with this skill. Decrepify is often used for bosses, as it hampers their ability to kill both the player and his minions greatly.
Lore
This curse gives the victim a glimpse of his own mortality, briefly aging the victim. Imagining itself with an infirm body of advanced age, the afflicted believes it is no longer capable of youthful exertions.[1]
References
↑ Diablo II Manual, page 72. Blizzard Entertainment, 2000.