Cold Mastery (Diablo II)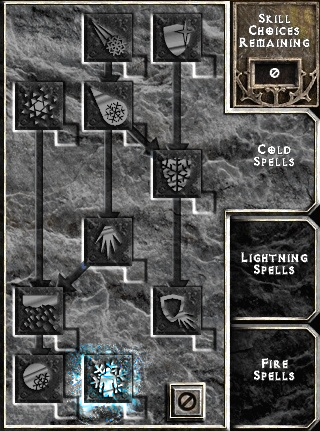 Cold Mastery
Pierces the cold resistance of your enemies
| | |
| --- | --- |
| Class: | Sorceress |
| Skill Tree: | Cold Spells |
| Required Level: | 30 |
| Damage Type: | - |
| Cast Delay: | - |
| Passive | |
| Prerequisites: | None |
Skill progression
Level
1
2
3
4
5
6
7
8
9
10
Enemy Resistance -%
20
25
30
35
40
45
50
55
60
65
 
Level
11
12
13
14
15
16
17
18
19
20
Enemy Resistance -%
70
75
80
85
90
95
100
105
110
115
Description
A passive skill, Cold Mastery is the Cold-based Sorceress' final step in conquering the element of frigidity. With each point invested, this skill subtracts from the Cold Resistance of your enemies. It cannot, however, ever break Cold Immunity, which is a major downside.
Tips
Although it's a great idea to put one or two skill points in to Cold Mastery, you should probably wait to do so until most of your other synergies are maxed out for your main skills. Since it cannot break full immunity, investing a ton of points in this skill may not be advisable.
Lore
Once mastery over this powerful elemental force is attained, a Sorceress achieves perfect command over this school of magic. Her freezing spells are now of such potency that adversaries formerly impervious to their effects soon find themselves the surprised victims of a vicious, chilly assault.[1]
References
↑ Diablo II Manual, page 91. Blizzard Entertainment, 2000.