Skill Progression with no synergies
1
2
3
4
5
6
7
8
9
10
11
12
13
14
15
Mana Cost
7
7.2
7.5
7.7
8
8.2
8.5
8.7
9
9.2
9.5
9.7
10
10.2
10.5
Magic Damage
17-25
25-34
34-42
42-51
51-59
59-68
68-77
77-85
86-95
96-104
105-114
115-124
125-133
134-143
144-153
16
17
18
19
20
21
22
23
24
25
26
27
28
29
30
Mana Cost
10.7
11
11.2
11.5
11.7
12
12.2
12.5
12.7
13
13.2
13.5
13.7
14
14.2
Magic Damage
154-162
166-176
179-190
192-204
205-218
218-232
231-246
250-266
269-286
288-307
308-327
327-347
346-368
372-394
398-421
31
32
33
34
35
36
37
38
39
40
41
42
43
44
45
Mana Cost
14.5
14.7
15
15.2
15.5
15.7
16
16.2
16.5
16.7
17
17.2
17.5
17.7
18
Magic Damage
423-448
449-475
475-501
500-528
526-555
552-582
577-608
603-635
629-662
654-689
680-715
706-742
731-769
757-796
783-822
Skill Progression with the following synergies maxed: Teeth, Bone Wall, Bone Prison, Bone Spirit
1
2
3
4
5
6
7
8
9
10
11
12
13
14
15
Mana Cost
7
7.2
7.5
7.7
8
8.2
8.5
8.7
9
9.2
9.5
9.7
10
10.2
10.5
Magic Damage
105-158
158-211
211-264
264-316
316-369
369-422
422-475
475-528
534-587
594-646
653-706
712-765
772-825
831-884
891-943
16
17
18
19
20
21
22
23
24
25
26
27
28
29
30
Mana Cost
10.7
11
11.2
11.5
11.7
12
12.2
12.5
12.7
13
13.2
13.5
13.7
14
14.2
Magic Damage
950-1003
1029-1089
1108-1174
1188-1260
1267-1346
1346-1432
1425-1518
1544-1643
1663-1768
1782-1894
1900-2019
2019-2145
2138-2270
2296-2435
2455-2600
31
32
33
34
35
36
37
38
39
40
41
42
43
44
45
Mana Cost
14.5
14.7
15
15.2
15.5
15.7
16
16.2
16.5
16.7
17
17.2
17.5
17.7
18
Magic Damage
2613-2765
2772-2930
2930-3095
3088-3260
3247-3425
3405-3590
3564-3755
3722-3920
3880-4085
4039-4250
4197-4415
4356-4580
4514-4745
4672-4910
4831-5075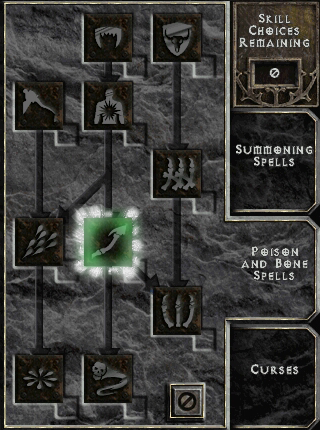 Description
Bone Spear is the staple attack of the Bonemancer. It deals very good damage, and since it is entirely magic damage, it will encounter very few immunities in Hell, making the Bonemancer quite capable of soloing through the game.
While Bone Spear is initially not as powerful as Bone Spirit, it receives larger synergy bonuses, and with proper points invested into the Poison and Bone tree, Bone Spear becomes the deadlier spell. Even at lower levels, however, Bone Spear's piercing properties still make it a better option against packs of monsters, as it will deal damage to all enemies it passes through, whereas Bone Spirit is only capable of damaging one enemy at a time. Bone Spear also has a higher mana cost-to-damage ratio than Spirit, though this is likewise erased when damaging multiple enemies. Bone Spear's rate of travel is also significantly higher than Bone Spirit's, though it lacks the ability to home in on mobile enemies.
Lore
Also known as the Talon of Trang'Oul, this spell summons a long shaft of bone issuing forth from the caster and piercing any opponents in its path.[1]
References
↑ Diablo II Manual, page 74. Blizzard Entertainment, 2000.