Bone Armor
Creates an orbiting shield of bone that absorbs physical damage
Prerequisites: None
Skill Progression with no synergies
1
2
3
4
5
6
7
8
9
10
11
12
13
14
15
Mana Cost
11
12
13
14
15
16
17
18
19
20
21
22
23
24
25
Shield Life
20
30
40
50
60
70
80
90
100
110
120
130
140
150
160
16
17
18
19
20
21
22
23
24
25
26
27
28
29
30
Mana Cost
26
27
28
29
30
31
32
33
34
35
36
37
38
39
40
Shield Life
170
180
190
200
210
220
230
240
250
260
270
280
290
300
310
31
32
33
34
35
36
37
38
39
40
41
42
43
44
45
Mana Cost
41
42
43
44
45
46
47
48
49
50
51
52
53
54
55
Shield Life
320
330
340
350
360
370
380
390
400
410
420
430
440
450
460
Skill Progression with the following synergies maxed: Bone Wall, Bone Prison
1
2
3
4
5
6
7
8
9
10
11
12
13
14
15
Mana Cost
11
12
13
14
15
16
17
18
19
20
21
22
23
24
25
Shield Life
620
630
640
650
660
670
680
690
700
710
720
730
740
750
760
16
17
18
19
20
21
22
23
24
25
26
27
28
29
30
Mana Cost
26
27
28
29
30
31
32
33
34
35
36
37
38
39
40
Shield Life
770
780
790
800
810
820
830
840
850
860
870
880
890
900
910
31
32
33
34
35
36
37
38
39
40
41
42
43
44
45
Mana Cost
41
42
43
44
45
46
47
48
49
50
51
52
53
54
55
Shield Life
920
930
940
950
960
970
980
990
1000
1010
1020
1030
1040
1050
1060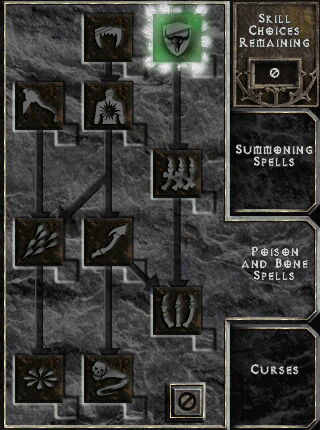 Description
Bone Armor protects the Necromancer from Physical Damage.
Bone Armor can be extremely helpful in absorbing Physical Damage, preventing attacks from reaching your Life. If you have points to spare, spend some on Bone Armor. If monsters hit you, and Mana is not a problem, recast your Bone Armor so it will be at maximum again. Even if the Necromancer doesn't focus on Bone Spells, this skill is a worthwhile investment for every kind of build.
Lore
This spell summons a barrier created from the bones of fallen warriors. The armor revolves around the Necromancer, protecting him against all attacks. Although enchanted, the armor does take damage and will eventually crumble.[1]
References
↑ Diablo II Manual, page 73. Blizzard Entertainment, 2000.