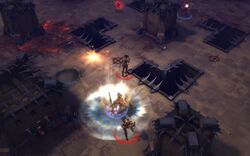 Battle Arenas were revealed in the Blizzcon 2010 Opening Ceremony as dedicated locations for Diablo III players to engage in PvP. Described as, "small gladiatorial arenas specifically designed for fast and furious PvP combat",[1] the intention is to have a contained area in contrast to the open-world dueling style of Diablo II. The Battle Arenas will host up to 6 players (3 vs 3).
Features
Maps will feature various line-of-sight obstacles so players can use them for cover or tactical advantage. There will also be designated Health Globe spawn locations often marked by an icon on the ground.
Maps
At this point there is only one known Battle Arena which was showcased at the Blizzcon 2010 Diablo III demo.
Screenshots
References