Archangel Auriel, The Aspect of Hope, is a member of the Angiris Council. She first appears in The Veiled Prophet, where she votes in favor of saving Sanctuary and humanity.
She resides in the Gardens of Hope in the High Heavens.
Background
The Sin War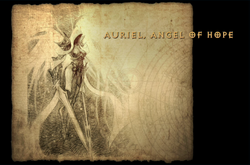 When Sanctuary was discovered, she was its most ardent defender and opposed Imperius who wanted to destroy it. She wanted to uphold the inhabitants' right to life and wanted to see them grow and mature. She seems compassionate towards others and respects life.
She was the one who allowed Rathma, Mendeln, Serenthia and Achilios to hear the debate that would decide the future of Sanctuary, because she felt that Uldyssian's sacrifice entitled those closest to him to at least hear what his sacrifice meant.[1]
Diablo III
In Act IV, Auriel has been captured by Rakanoth. Once freed, she enables the Heroes to destroy the Corrupted Growths so that the illusion protecting the Hell Rifts can be dispelled. In the meanwhile, Auriel goes to rally the angelic Host. Once the Heroes have entered and destroyed a Hell Rift, Auriel returns to give a portal back to the Gardens of Hope.
After Diablo's defeat, she appears alongside Itherael, proclaiming that evil has been vanquished and that she'd always had faith in the nephalem.
Appearance
Auriel is the only feminine member of the Angiris Council and the most light-hearted of the group. She is described as being dressed in blue robes and having a sympathetic nature, and she believes in the "potential good of all beings". Whether this also includes demons is not clarified. This does not mean that she cannot or will not fight, only that she has a more positive outlook on existence than perhaps her fellow council members. She has reportedly settled arguments between Imperius and Tyrael on numerous occasions, a testament to her benevolent qualities.[2]
Al'maiesh
The Cord of Hope is said to be a manifestation of Auriel's positive qualities. The cord has glowing runes covering it from end to end, and it has the power to grant others the ability to think clearly without emotional influence. In battle, Auriel can also use it as a whip that burns anything it touches.[3]
Speculation
"We, like you, made false assumptions about this place, false assumptions about the creatures spawned by both our kind.' A blazing red eye materialized, then winked in the direction of Auriel, who utterly ignored it." [4]
When the Kiss of Mephisto that resurrects the Morlu is first mentioned, it is said that it was named 'Kiss of Mephisto' because it was originally a gift for someone, other than Lucion. Since Lucion doesn't approve of the 'kiss', then it doesn't seem to be the sort of kiss that a father gives to his son. Therefore, it also seems unlikely to be the type of kiss that is from a father to his daughter, so it is also unlikely that it is aimed at Lilith. If not Lilith or Lucion, then Mephisto must have been involved with someone else.
"Turning his eyes back to the cataclysmic sight below, Lord Lucion gestured toward the very center, where the worst of the carnage had and was still taking place. In the midst of everything, a black gemstone nearly as large as a man sat embedded in a triangular column of red-streaked marble. "Blood marble," it was named, naturally. The stone was called by Malic's master the Kiss of Mephisto, although the cleric had, from past comments, reason to believe that it had once been named for another of whom Lord Lucion would not speak."[5]
Trivia
Auriel is voiced by Cree Summers.
Gallery
Official Art
Fan Art
References