Character Attributes are a set of values that determine a variety of different statistics that make each character in the Diablo series. They share similarities to attributes commonly defined in role-playing games: Strength, Constitution, Dexterity, and Wisdom.
Diablo III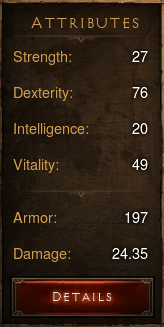 In Diablo III, the attributes have been revamped almost completely, including the realignment of the various effects that attributes grant.
The Attributes of the character are now viewed directly in the inventory screen with a Details button for more in depth numbers as seen in the image to the right.[1]
One of the most significant differences in the attribute system of Diablo III is that player no longer has the freedom to assign attributes points to the upon leveling up. The stats are automatically increased with bias to each classes favored attributes.[Citation needed]
Armor

:

Reduces all damage from enemies [1]
Diablo II
Every time your character gains a level, you receive five points to spend on your Character Attributes. In Diablo II, the most notable change was the revamping of the Skill system that led to the replacement of the earlier Magic attribute with the more general Energy attribute. Another less identifiable change is the nerfing of the Dexterity attribute to not contribute to damage from Bows. In Diablo II you are rewarded with 5 attribute points by completing the quest Lam Esen's Tome
Strength: determines how much damage you deal with your equipped weapon(s), as well as determining the type of armor you are able to equip. Each point of strength increases your damage by 1% of your weapon's damage.
Dexterity: determines how likely you are to hit your targeted enemy and how likely your targeted enemy is to hit you. Dexterity also determines your ability to equip certain weapons, mostly ranged weapons and the chance to block an enemy attack if equipped with a shield.
Diablo I
Every time your character gains a level, you receive five points to spend on your Character Attributes. In Diablo I you can also boost your attributes by drinking Elixirs. In Diablo I, the attributes were:
Strength: increases the damage you deal with your regular attack. Also allows you to wear heavier armor and weapons.
Dexterity: increases your chance to hit the enemy, your AC (Armor Class)and chance to block with a shield (unshown). Rogues and in the Hellfire expansion Monks and Bards gain additional damage from Dexterity. Some weapons require a certain amount of dexterity to wield.
Vitality: increases your amount of life. For the Barbarian in the Hellfire expansion, it also increases your damage.
The damage increase from attributes (also called character damage) is determined by your class and level. It is not affected by the damage on your weapon or by having +% damage modifiers on your weapon. The +200% damage to demons bonus on Civerb's Cudgel does apply to it.
References