Angels are beings of light and sound from the High Heavens born from the Crystal Arch. Though angels appear to have physical forms wearing armors and clothes, the true essence of angels are actually their wings, which are alternatively described as strands of light or fire. Their bodies are merely tools with which they interact with the world.
They are ruled by the Angiris Council, the angelic equivalent to the Great Evils of the Burning Hells.
Characteristics
Angels believe in strict discipline and order and wage a constant battle for the sake of all creation against the demonic hordes of the Burning Hells who seek to turn existence into pure chaos. In the Diablo universe, Angels are quite different from their judeo-christian counterparts. They strive to bring order and light into the world and oppose chaos and darkness and will go through any means to accomplish it. This is because they are all birthed from the remains of Anu. Even during their early efforts to gain the trust of humans they drove many away from them because of their austere methods and strict sense of discipline.
Even so, in battle angels can strike as much fear in mortal hearts as demons.
A fallen angel is an angel that has been exiled or banished from the High Heavens. This can come to be because of corruption, or more often such banishment is a punishment for disobeying or rebelling against the Angiris Council. Another way is for deliberate betrayal by an angel.
Archangels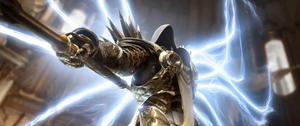 An Archangel is an Angel of higher rank or with greater spiritual power than an ordinary Angel.
The Angiris Council, the ruling party of the High Heavens, consists of five Archangels. While various other Archangels are known to exist, they are not designated members of the Council. Archangels usually have their own specific spheres of influence, which define what they are and their functions in the High Heavens: for instance, the Angiris Council stands for Justice, Hope, Wisdom, Valor and Fate. Even in this respect Angels resemble their Demon counterparts: the Greater and Lesser Evils have their own domains, such as Terror, Pain and Destruction.
Archangels like Inarius have been known to have the power to create entire realms like Sanctuary, albeit with the aid of the Worldstone.
One of the most famous and popular Archangels is Tyrael, the Archangel of Justice.
List of Known Angels
Angiris Council
Former Angiris Council Members
Other Angels
The angel Miradokus in The Kingdom of Shadow is a only a disguise of Diablo and not a real angel.